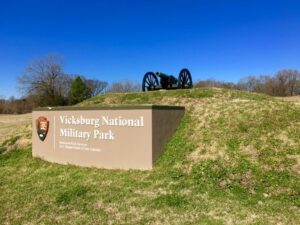 Although Vicksburg, Mississippi, is a great destination for music, dining, shopping, and even gambling, let there be no doubt that Vicksburg National Military Park is the city's most prominent attraction.
As well it should be.
In addition to the historic battlefield, the park is also home to the U.S.S. Cairo Gunboat & Museum, and the Vicksburg National Cemetery.
It should come as no surprise that, as an amateur history buff and an obsessive collector of National Parks Passport stamps, Vicksburg NMP had been on my bucket list for years. I always assumed that when I finally made it to the park I would collect a unigrid (NPS official brochure and map) at the Visitor Center and do a self-guided tour like I always do. Little did I know that when it finally happened, as a guest of Visit Vicksburg, I would be accompanied by a personal licensed tour guide and chauffeur.
Word on the street had it that as tour guides go, David Maggio was the best of the best, and my experience soon proved the accuracy of his reputation. After breakfast, I met David at the Vicksburg NMP Visitor Center to begin the park tour. So that I could give him my undivided attention and have freedom for photo ops, David climbed behind the wheel of my Mountaineer, and we proceeded through the Vicksburg Memorial Arch and onto Union Avenue.
To fully immerse oneself in a visit to a historical site, it is always best to have a basic understanding of what happened there. Upon my request, David was kind enough to contribute two brief histories to this article. This is a good thing on two accounts. It prevents me from including historical inaccuracies in the text, and it gives our readers a taste of David's guided tours.
The original story appeared here:
https://backroadplanet.com/best-way-visit-vicksburg-nmp/